My dad is a pretty nice guy. I really have a good pop. He recently has been spending his time building us a patio cover. He is very gifted in building and architecture. And eating food, but that isn't quite what this is about. So he has been building away for us and I try to keep him supplied with food and treats. He absolutely loves coconut macaroons. For most of my childhood I absolutely hated coconut macaroons. Haha. Until I had come across a recipe many years ago and made them for my father. He raved about them. Boyband devoured them. So I got to thinking that maybe there was something to these plops of coconut and sugar. Well by George, John, Paul and Ringo…these were delicious! Not the dry creepy meringue texture I had been imagining. They are sweet but not sickeningly so. What really was the cherry on top and by cherry I mean chocolate glob…was the tiny chocolate hat that each of these were graced with.
Fast-forward to now and being gluten free and having had some pretty gnarly gluten free macaroons (imagine expired coconut and sea horse egg whites) , I figured it was time to start doing some  recipe creating of my own. I adjusted our most prized macaroon recipe. Did some modifications and voila! Gluten free macaroon bliss. These cookies go really fast at potlucks and look pretty enough to serve on a dessert table. They are soft and flavorful, never dry, and melt in your mouth. That's all we want from a cookie, right? You can make them in about 30 minutes too. You bite into a little bit of toasted coconut but then hit a creamy almost marshmallowy center. The rich dark chocolate balances out the sweetness. These gluten free chocolatey coconut macaroons are like biting into dreamy clouds.
I made these for my dad as a little thank you. It is hard to adequately say thank you to someone who has put in countless hours so that your little ones have some shade in the scorching sun, but a good cookie is a start. Love my dad. Love these gluten free Chocolatey Coconut Macaroons.
Let's go make them!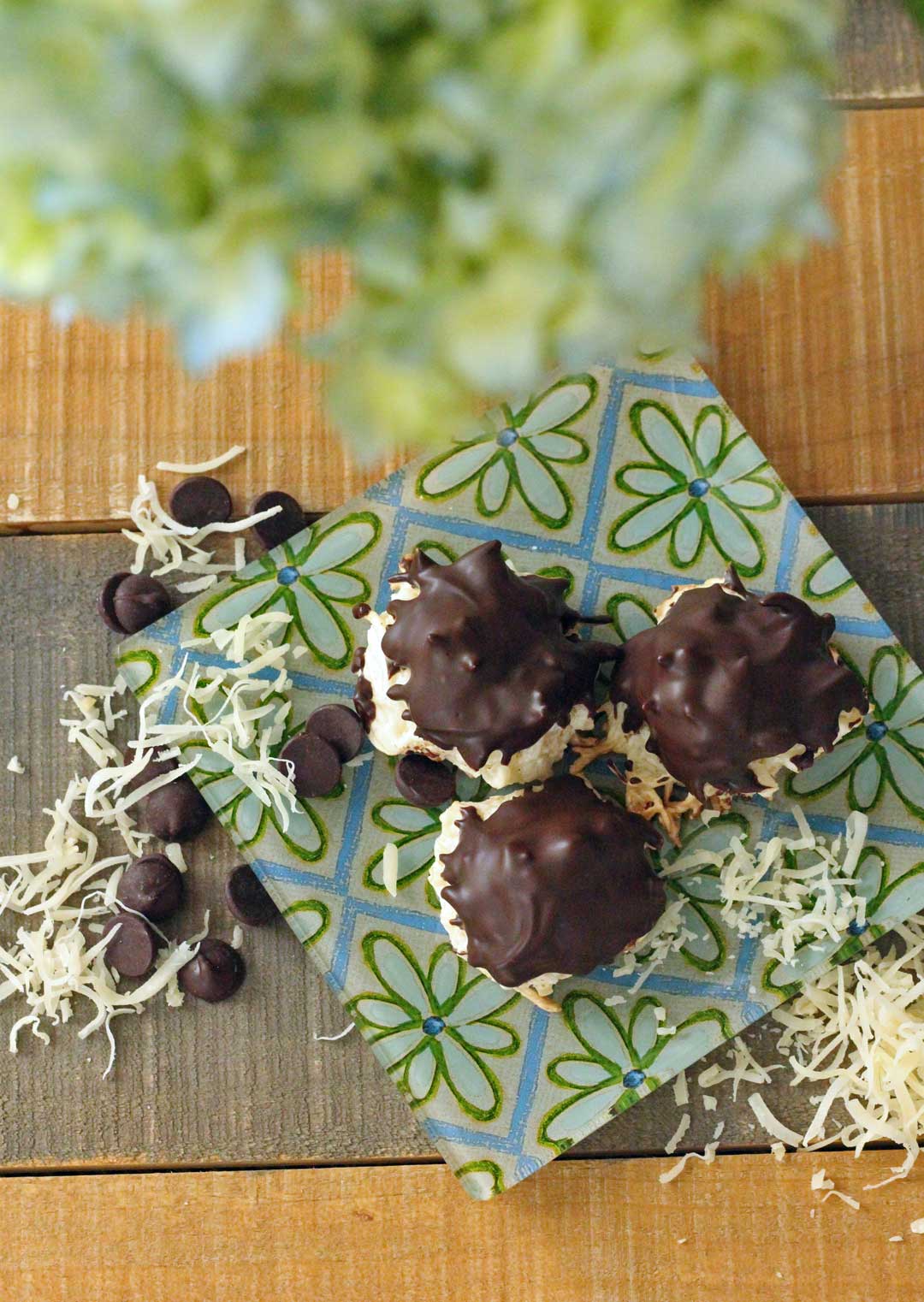 Print Recipe
Chocolatey Coconut Macaroons by Gutsy Gluten Free Gal
Ingredients
Ingredients:

2 large egg whites

1/3 cup granulated sugar

1 teaspoon vanilla extract

3 tablespoons all-purpose gluten free flour (I used Pamela's artisan flour)

2 ½ cups sweetened coconut

3 oz dark chocolate (could be chips or baking squares, I used Hershey's special dark chips)

1 teaspoon vegetable oil
Instructions
1
Preheat oven to 350 degrees and line a large baking pan with parchment paper.
2
To a mixing bowl add the egg whites and beat until egg whites are soft and are now thickened. They may be a little foamy on top. This took me about 3 minutes. Keep the mixer running and slowly add the sugar until it has all been added and then mix well so that it is all incorporated. Next add the flour and beat until you have stiff peaks. (like you could pull the paddle away from the mixture and it would leave a little stiff cloud behind). It won't be totally thick like a custard or whipped cream though. With a wooden spoon or spatula gently fold in the coconut until it is all covered by the egg white batter. This should be done carefully as to not lose volume from the mixture. Let sit in the bowl for about 10 minutes.
3
Drop heaping tablespoons of the macaroon mixture onto the prepared pans leaving room for them to expand. So about 2 inches apart. Once all the macaroons are on the pan gently form each mound of mixture into a pyramid shape. Bake about 12 minutes or until golden brown. Remove from the oven and let macaroons rest on the pan for a couple of minutes and then move them (still on the parchment paper) to a wire rack to cool completely.
4
When the macaroons are all cool, peel them gently off of the parchment paper.
5
Then prepare the chocolate. In a microwave safe glass bowl add the chocolate and microwave for 30 seconds. Mix the chocolate and microwave for another 30 seconds. Keep microwaving in short time increments until chocolate is melted but not overly cooked. It will seize up and be a chocolate paste if you cook it too long. (you could also melt chocolate in a double boiler if you prefer) Once melted add the oil to the chocolate and mix. Dip the top of each cooled macaroon into the melted chocolate. It should be a nice chocolate hat. Place the dipped macaroon back on the wire rack and let chocolate set. (if you are crunched for time you can put them in the fridge to set up the chocolate for a few minutes too)
Notes
These keep great in an airtight container in the refrigerator. Best if they are able to come to room temperature after you take them out.