Hi!
It's the first day of fall and to commemorate that we even made it to fall in 2020, I've got a festive new recipe for you! The leaves are not really doing anything spectacular here. We live in the land of two seasons and fall kind of gets overlooked. But I absolutely love going to places that actually do put on a color show. Fall is full of hope for me. It seems like the grind between school starting, the blazing heat of August and September and the general overwhelming feeling kind of dissipates when the pumpkins come out. We grew our own pumpkins this year by the way!! Covid times have turned us into quite the farmers. Not really, it's a garden box on the side of our house but they were still so fun to watch.
Do you like pumpkin? It seems that most people go a little nutso this time of year for all things pumpkin spice. It's a ray of sunshine in a rotten carcass world. Right. I enjoy pumpkin flavored things, all year but fall makes them really pop. Maybe throw on a sweater, a scarf, some acorn earrings and go roll in the leaves. After you are done sweating because it is still much too hot for that business, throw on a tank, some shorts and whip up this Pumpkin Spice Bundt Cake.
One of the most beloved recipes on this lil' blog is my Chocolate Chip Bundt Cake with Cream Cheese Frosting. Its not just any cream cheese frosting either. It is the BEST. I know a lot of people claim things are the best. I'm very careful to do that. Really because most things are delicious but certainly not the best. But folks, this is amazing stuff right here. Do you like Nothing Bundt Cakes? Oh, are you smiling now? Do you see where I'm going with this? Their cream cheese frosting is seriously amazing. I had crowned it the best. But the thing about crowns, is that they are made to be stolen. Ooooh that sounds like a great plot to a Hulu show. And I stole it. I waltzed right up to Nothing Bundt Cakes and said, "This frosting trophy shall now belong to Gutsy!" They didn't talk back because they are cakes, but it was a real moment. YOU WILL LOVE THIS CREAM CHEESE FROSTING.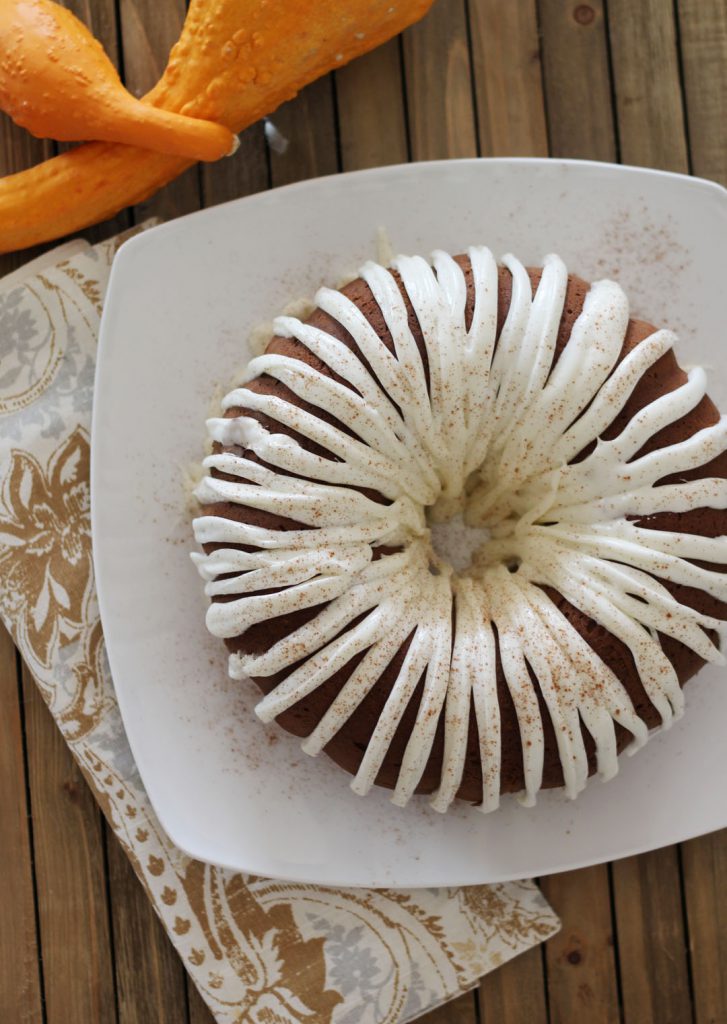 Now let's talk levels of pumpkin spice. Some baked goods can take it waaaaaay up a notch. Like a ginger and clove explosion that is demanding to wake up your palate. Whether you want to or not. I don't care for a punch to the throat by pumpkin spice. I like it to be obvious it is there but not too look at me. Pumpkin Spice can be very showy. It should taste warm, cinnamoney, with hints of nutmeg, slight ginger and the goodness of a Vermont morning in October. I make my own pumpkin spice here. But if you don't want to, you can sub a good already made pumpkin spice. Just play with the seasoning. I'd say about 2.5 TBS.
This gluten free Pumpkin Spice Bundt Cake with The Best Cream Cheese Frosting is tender, flavorful, and full of everything you want out of a bundt cake. And yes, is gluten free. Miracles do exist still. The creamy, not too sweet, but perfectly balanced frosting rounds out this fall favorite. We absolutely love this cake and I hope you will too. If you like it, try my chocolate chip version. It is a real winner too.
Let's go make it!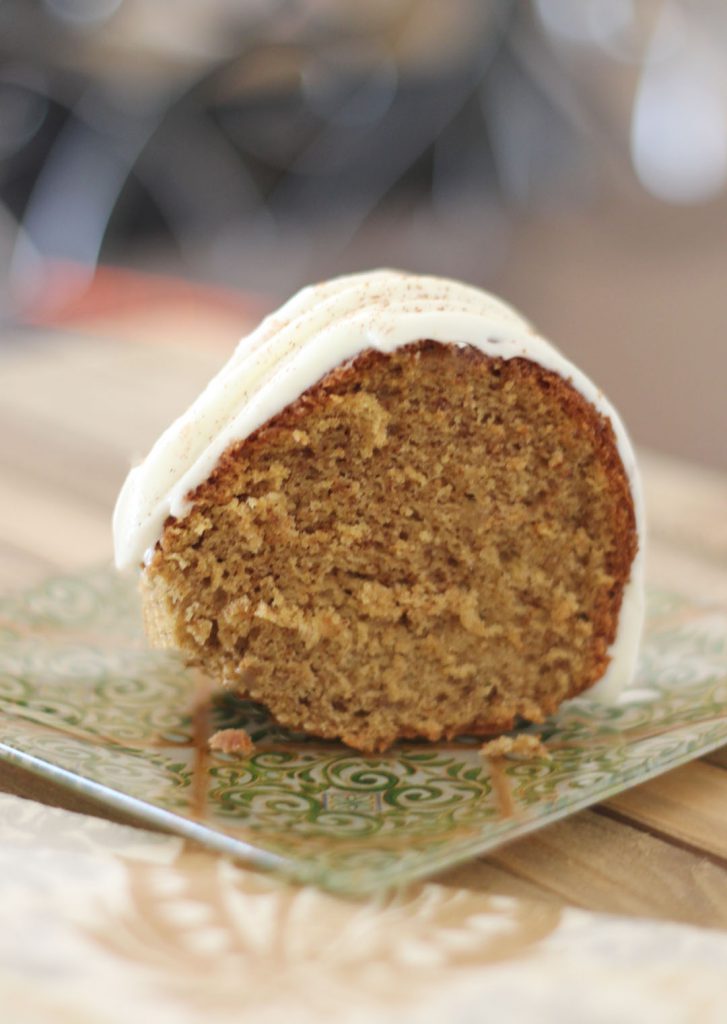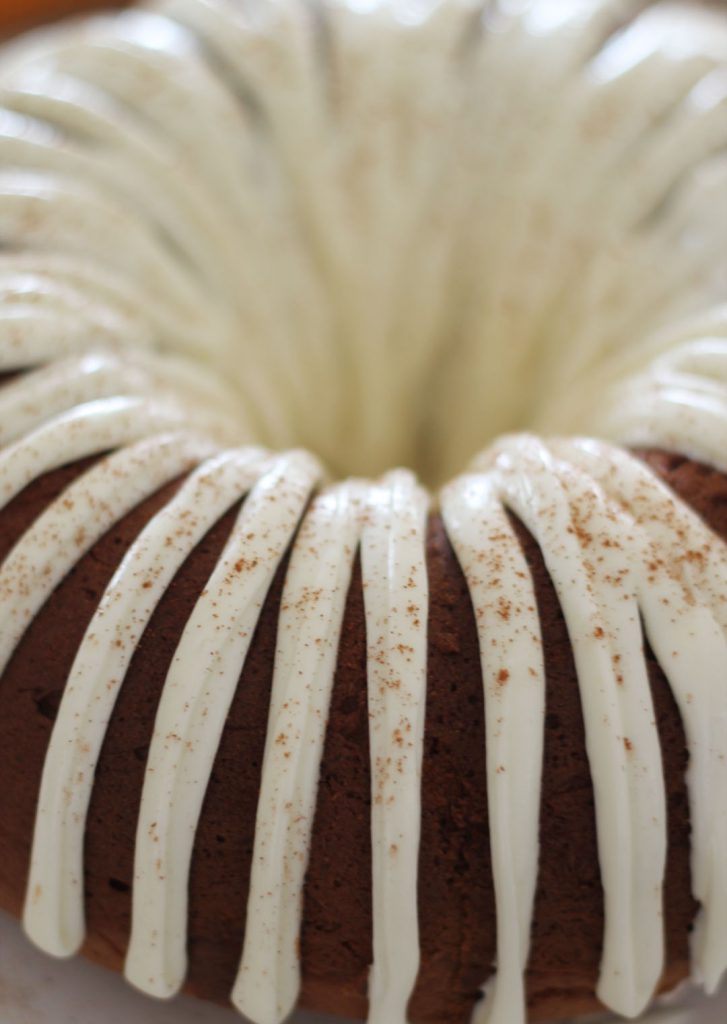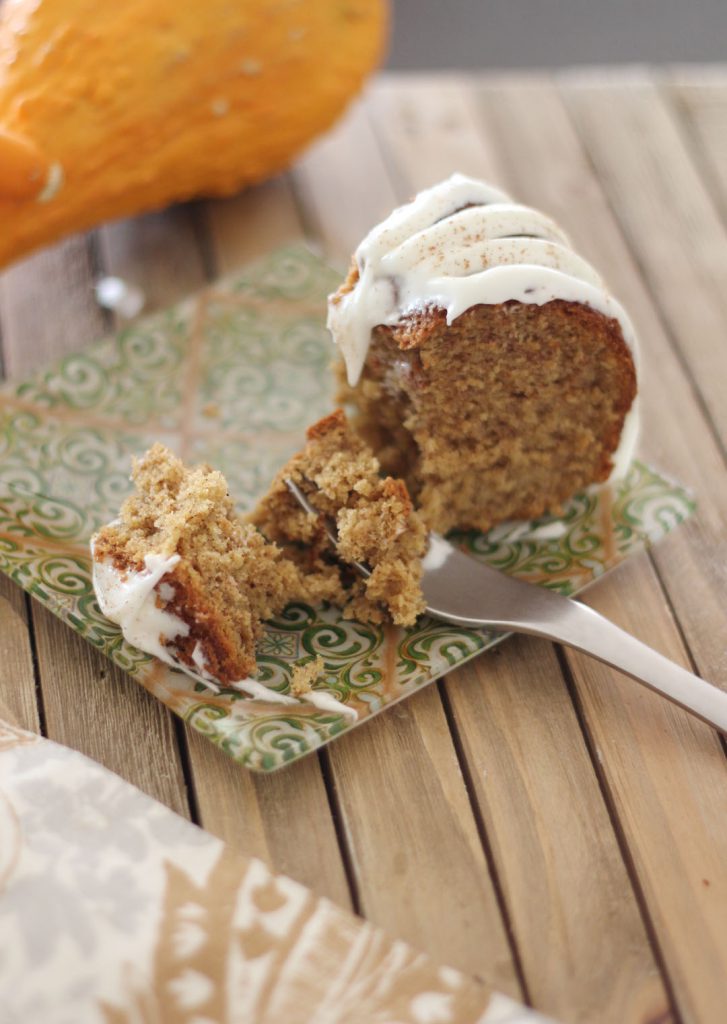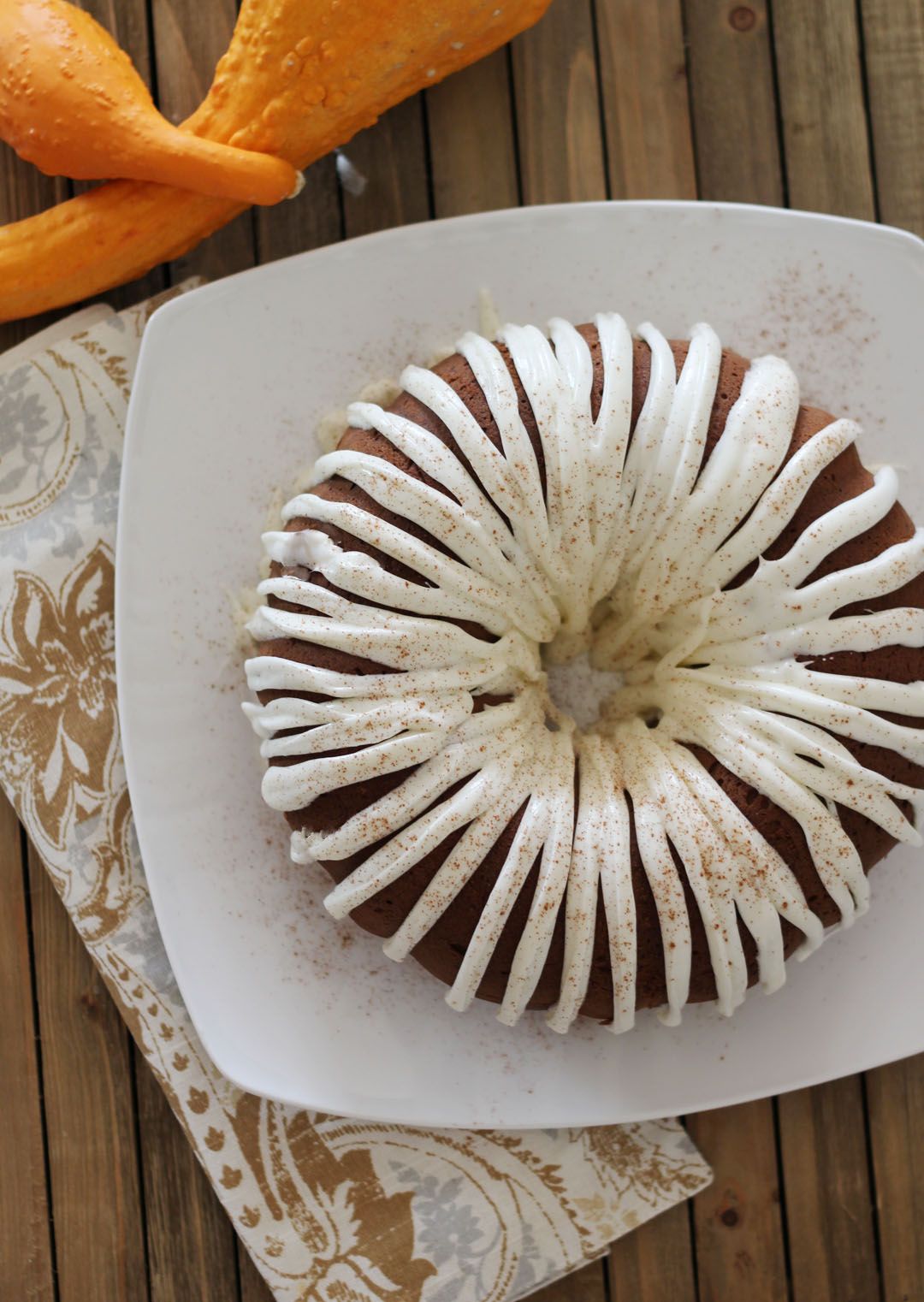 Print Recipe
Gluten Free Pumpkin Spice Bundt Cake with Cream Cheese Frosting
Ingredients
For Cake:

1 ½ sticks salted butter (12 tablespoons- softened)

1 ½ cups granulated sugar

4 large eggs at room temperature (this may sound crazy but I will put them in microwave for 8 seconds to achieve this)

1 ½ teaspoons vanilla extract

1 cup pumpkin puree(not pumpkin pie filling)

½ cup sour cream (I used Daisy light)

¼ teaspoon xanthan gum

2 teaspoons baking powder

½ teaspoon baking soda

½ teaspoon salt

2 TBS ground cinnamon

1 ½ tsp ground cloves

1 tsp ginger

½ tsp nutmeg

2 ½ cups Gluten Free Flour (I used Pamela's, if yours has xanthan gum, leave the above amount out) *

5 TBS corn starch

For Cream Cheese Frosting:

12 oz softened cream cheese

4 ½ cups powdered sugar

½ tsp salt

¼ tsp vanilla

Ground cinnamon for sprinkling
Instructions
1
Preheat the oven to 350 degrees. Prepare a 10 inch bundt pan by spraying with non-stick spray or coconut oil and then flouring it.
2
In a bowl whisk together the baking powder, baking soda, salt and xanthan gum. In a sifter add the flour and cornstarch. Sift all ingredients together. This seems like a pain but you are essentially making gluten free cake flour. You want this to be very fine. Once sifted, whisk all the dry ingredients together. Now add the cinnamon, cloves, nutmeg and ginger and mix. Set aside.
3
In the bowl of mixer with a paddle attachment, cream together the butter and sugar until light and fluffy. About 5 minutes. With the mixer on low, add the eggs one at a time. Making sure they are incorporated into the butter. Next add vanilla, sour cream and pumpkin. Mix.
4
With the mixer on low, add the bowl of dry ingredients to the wet ingredients and mix until just combined. You may need to scrape down the sides to make sure it is all mixed together.
5
Pour the batter in the prepared bundt pan. Bake for 50-60 minutes. Mine took 60 minutes. But I started checking it at 45 minutes and I recommend you do the same. You do not want to over bake this. A toothpick should come out clean when the cake is done but you shouldn't smell a burning or toasted cake smell. This isn't a pumpkin fireball.
6
When cake is done, remove from oven and place cake in bundt pan on a wire rack. Let it cool completely before frosting. I let mine sit for about 45 minutes, then took it out of the pan to let it come completely to room temperature. In total it took an hour.
7
When you are ready to frost the cake, add the softened cream cheese and powdered sugar to the bowl of an electric mixer with a paddle attachment and beat until thoroughly combined. About 2 minutes. Next add the vanilla and salt. Mix again until it has come together. When frosting is done, you can put it in a piping bag with a tip, or you can be quick like me and put it in a large Ziploc bag. Cut about a ½ inch off the corner of the bag and pipe frosting onto the cooled cake. I started in the inside of the bundt and would just do lines to the outside of the cake, all the way around. Sprinkle with extra ground cinnamon.
Notes
Note, this cake is my family's favorite on the day it was made. But I prefer it cold the next day. Either way tightly cover and store leftovers in the refrigerator. Just set the cake out to come to room temperature before serving. That could take an hour. I love warm cake too, so zapping a slice of this in the microwave for about 20 seconds gives you melted cream cheesy pumpkin goodness. I make my own pumpkin spice here. But if you don't want to, you can sub a good already made pumpkin spice. Just play with the seasoning. I'd say about 2.5 TBS.