I love fish tacos. I would marry fish tacos if I could. Not really but I would give them a guest room so I could visit them every day. That makes no sense. But I still love fish tacos. Switching to gluten free, it seemed like those crunchy and tender fish tacos that were our favorites were going to be out. Some gluten free breading can take on a gummy texture with a very weird mouth feel. But these fish tacos are perfect. I mean they are the ultimate after all. Lots of goodies going on in these tacos to make the fish shine. Fish love shining. That's why they have scales. Such attention hogs.
Fish. Let's talk some real talk here for a moment. Fish can be delicious. It can have a delicate flakiness and mild taste. It can be sweet to the palate and a healthy alternative to meat. It can really be part of a special dish. Or it can be downright creepy. Boyband went deep sea fishing this past weekend. I was so happy he could go and have a great time out on the salty seas. Waking up early is shockingly not his most favorite thing, so he was a little tired but was ready to go catch some monsters of the deep. I awaited his return. I anticipated hearing his fishing tales. I grimaced at the thought of the fish filets he would be slinging. It kind of goes along with my weird chicken phobia. Some raw meat just gets me right in the gag reflex. But he brought it home and put it in the fridge and I was hoping it was going to make its way to the freezer and stay there for a couple years. There is a trout in our freezer from three summers ago. I just can't bring myself to throw him out. He is one with the kitchen now.
Boyband asked if I could make fish tacos. "Suuuuuure," I said out loud. Mentally I was thinking now I'm gonna grill up that fish and I don't even know what kind of fish it is and all the tartar sauce in the world wasn't going to stop my inner dialogue of panic. Then I thought of crispy fish tacos. My mouth began to water. I knew that was really my brain signaling me to begin a prosperous and delicious journey. I played around with different breading options and landed on using some of my favorite brands that never let me down for some gluten free substitutions for flour and bread crumbs. I thought about what would make me happy if I were a fish and that was definitely mango salsa, creamy chipotle sauce and some veggies. I sent Boyband and Man Boy to the store to pick up some ingredients and I got to work.
These turned out so illegally good. The smoky chipotle cream is the perfect complement to the sharp cheese. Crunchy cabbage and carrot enhance the super crunchiness of the fish. Top it with sweet salsa, spritz of fresh lime and they were honestly the best fish tacos we have ever eaten. Man Boy scarfed these down. Princess Sparkle loves fish and chose to eat it all separate on a plate. Please forgive her for her odd dining preferences. I ate three. And then I was so full that my brain said, you really can't get fuller… do one more. So I did. Boyband ate three and then asked if I could make them again the next day. Fish tacos are a little ingredient intensive but they are not hard to make and most ingredients you probably have at home. I whipped these up for lunch in a small amount of time. You can use whatever fish you like in these. Just not salmon that would be too strong a flavor. Mahi Mahi would be awesome, just make sure it is sliced very thin. You could do cod, snapper or even tilapia. Tilapia isn't my favorite but by all means; have at it, if it is yours. I honestly don't know what kind of fish we had, I believe it was snapper from the little skin tag on it. It was delicious and fresh from the ocean and not scary looking. So gather from that what you will. Taco Tuesday Everyday Friends!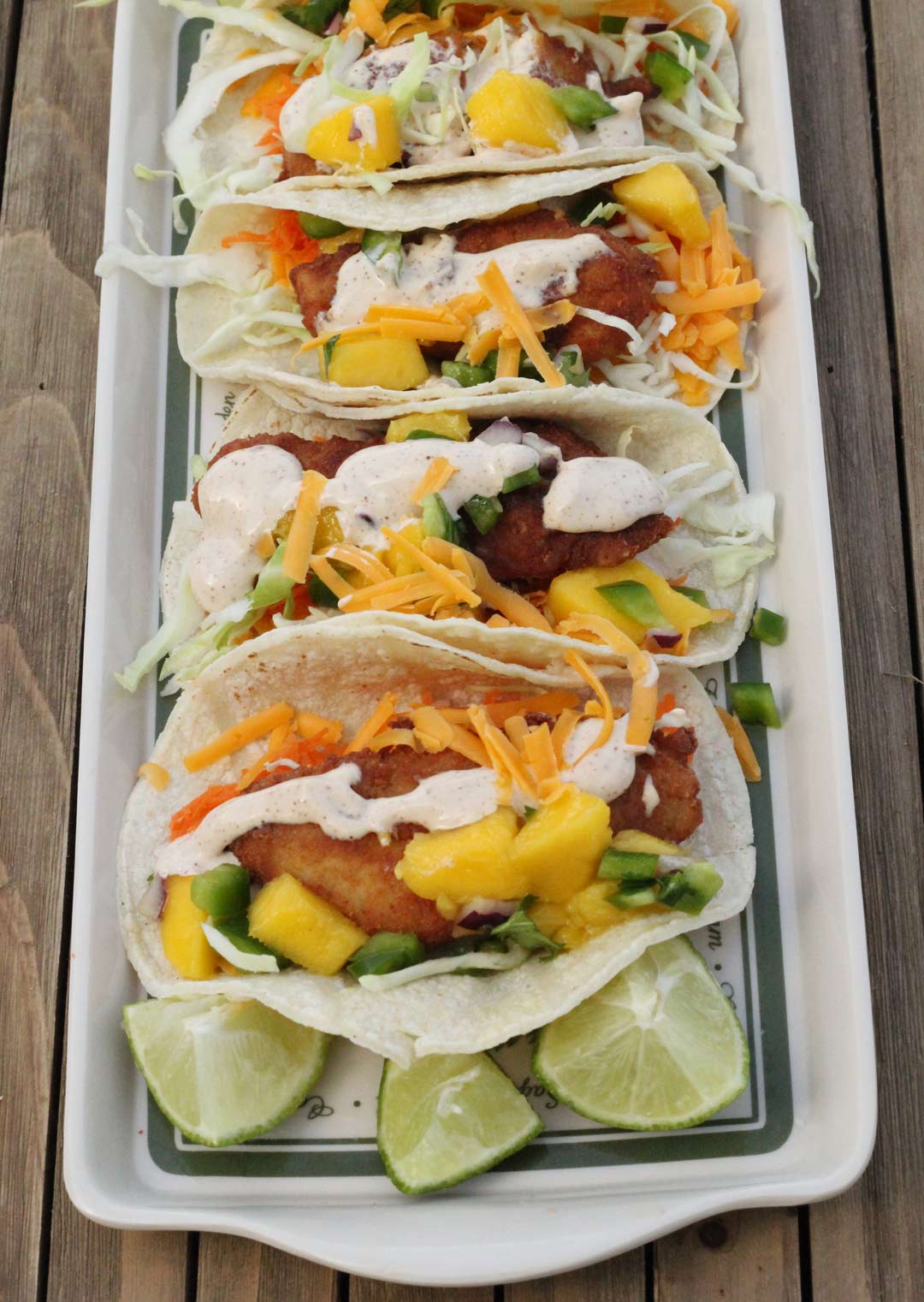 Print Recipe
Ultimate Fish Tacos by Gutsy Gluten Free Gal
Ingredients
¾ lb fish(mahi mahi, cod, snapper, tilapia, your choice)- cut to about once inch by 4 inch wide pieces

Vegetable oil for frying

2 eggs

2 TBS water

Dash of salt and peper

½ cup Pamela's Gluten Free All Purpose Flour

¼ tsp paprika

¼ tsp garlic powder

¼ salt

¼ fresh ground pepper

1 cup Shar Gluten Free bread crumbs (you of course can use your favorite brand)

¼ tsp salt

¼ tsp pepper

8 Gluten Free corn tortillas (I used Mission)

1 cup shredded cabbage

¼ cup shredded carrot

½ cup shredded sharp cheddar cheese

For the mango salsa

1 mango chopped in small cubes (peeled and not containing that weird bone in the middle)

¼ cup green bell pepper diced

2 TBS red onion finely diced

3 TBS cilantro- chopped

Juice of 1 lime

For the Chipotle Cream

½ cup sour cream

½ cup mayo

1 tsp agave nectar (can sub sugar)

½ TBS dried chipotle (you can adjust to how spicy you want it, we can do 1 TBS)

¼ tsp salt

Juice of half a lime

Extra lime wedges to garnish.
Instructions
1
Heat vegetable oil in a skillet over medium high heat. I used about ¼ cup.
2
Set up a breading station. Beat the eggs, water and dash of salt and pepper in one shallow dish, Place the flour, paprika, garlic powder, salt and pepper in another shallow dish or plate and mix. Thirdly place the gluten free bread crumbs, salt and pepper in another shallow dish and mix.
3
Take the clean and dried fish and first cover in the flour mixture. Make sure it is totally covered in it. Next put the floured fish into the egg mixture. Again covering fully. Shake off any excess egg. Finally place the fish in the bread crumb dish and cover completely with bread crumbs. Place on paper towel and place somewhere to keep warm until you are done repeating the steps with all the fish pieces.
4
Carefully place breaded fish into the hot oil and cook for about 2-3 minutes each side. The color should be a deep golden brown and if your fish is sliced properly it should not take longer than that to cook. Use your nose. If you start to smell burnt oil or breading, turn down the heat. You may need to do two batches of frying the fish. You don't want to crowd the pan.
5
While the fish is cooking, mix together the mango, green bell pepper, diced red onion, cilantro and juice of one lime. Season with a little salt to your liking.
6
To make the chipotle cream just mix the sour cream, mayo, chipotle, salt, agave and juice of ½ a lime. Set aside until ready to use.
7
Heat the tortillas either covered in a damp paper towel in the microwave for one minute or you could individually heat them in a pan. That is too much work for me.
8
Once the fish is done, you are ready to assemble. Place cheese on the warm tortilla, followed by fish, cabbage and carrots. Top with mango salsa and a good amount of chipotle cream. So delicious with the juice of the fresh lime wedges squeezed on top. Just like being on a beautiful beach somewhere. Fish tacos, take me away.